Summer
We are still trying to reorganise our work. Christina has been painting towards her exhibition at Dennis Kilgallon's 'The Gallery In The Hills'. This takes place from 1st September to the 28th October. Details of the gallery below.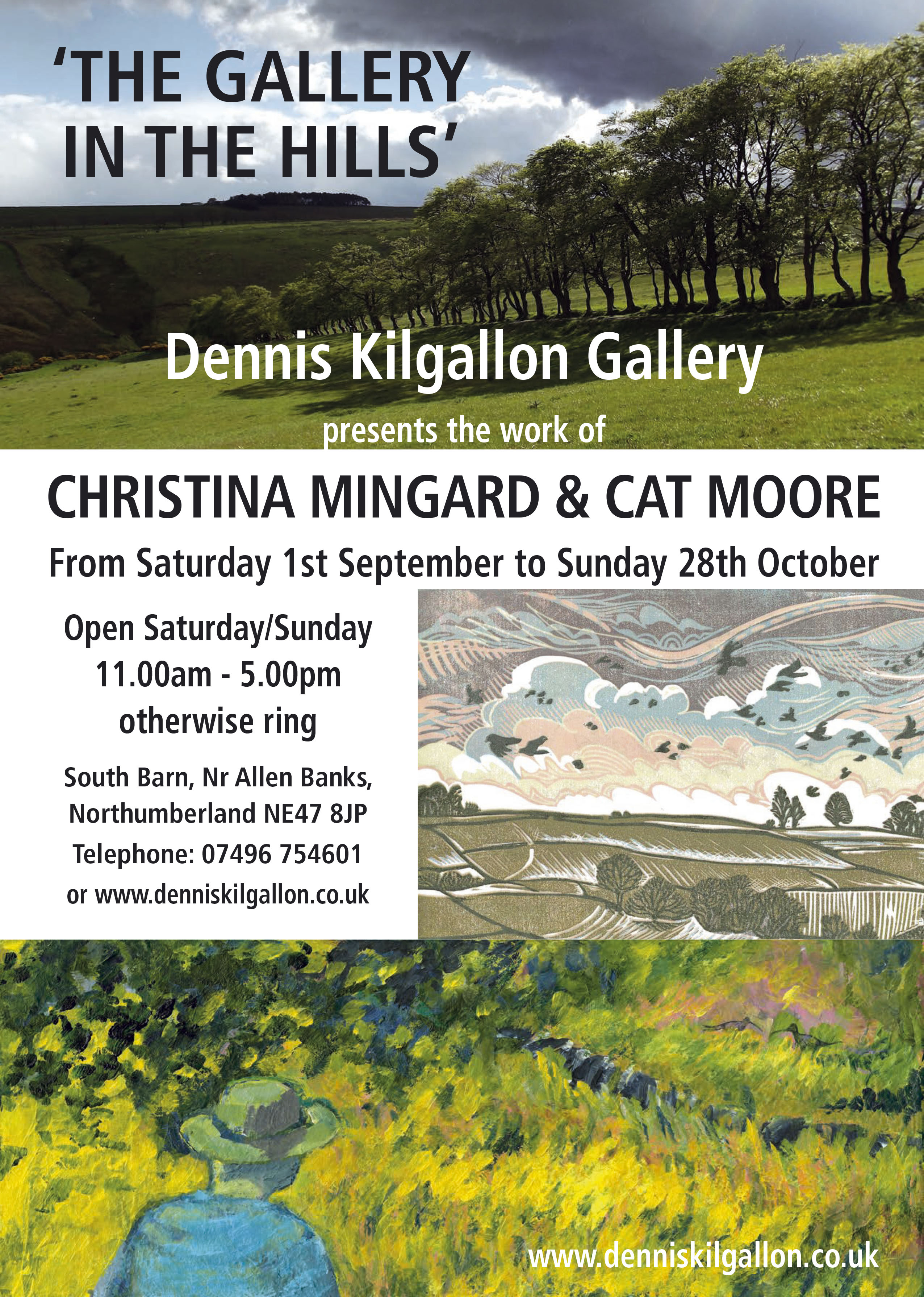 Most of the new work on display is what Christina has painted from her new studio here in Allendale, with its sweeping panorama. Some was done from London on a brief visit there. The pressure of working towards an exhibition means that Christina has been unable to visit friends and family as much as she would like. However, it means a lot more paintings for the rest of us to enjoy at this new exhibition and some others that are in the Robinson Gay Gallery. The Preview is on 1st September from 4.00pm to 8.00pm. You're invited, so come along if you can.
Actually, it it double good news because our daughter Cat Moore is also exhibiting some of her linocuts and other prints in the same gallery space.
Christina's paintings are mostly on view at the Robinson-Gay Gallery in Hexham. The gallery exhibits the work of a number of top artists, so please visit, or check out their website.
Christina will have some paintings and prints at the Dennis Kilgallon Gallery in the Hills between Bardon Mill and Whitfield. More details about the gallery on their website. The gallery has its own outdoor sculpture and views of the hills around it. It can be found at NE47 8JP on your SATNAV. Please note that the gallery is open weekends from 11.00 - 5.00. You can arrange for it to open other times by calling 07496 754601. How about that; your very own private view?
You can see the paintings in the originals gallery by clicking here
If you would like an invite to any of Christina's own exhibitions, you can fill in your details by clicking below or on our contact page.

If you prefer to have your name removed from our list, or to tell us of a change of address, either click the unsubscribe button at the bottom of any email, or use our contact form to let us know.
Looking forward
Christina writes: 'Since moving to Allendale, I have had much to take in from my studio window. There is in front of me a long meadow, where people wander, walking dogs and chatting; sometimes in groups. As a result, I am beginning to people the landscape when painting it. The view is a panorama and the more I look, the more there is to explore; working people; a mail van; farmhouses and outlying dwellings all appear in winter and then disappear again in summer as the trees fill out and dominate the view.
In this exhibition you will find a few 'wild cards' too, painted whilst house sitting for family. Homage to Rousseau for example has a cat sitting in the undergrowth, staring at birds in a tree. See if you can spot the cat. Pollarded Planes and It's a New Day are some of my city paintings.'
There will be no overseas train odyssey again this year, partly due to us spending every pound and minute on our new home and workspaces So, no addition to our Travel Blog. Feel free to ignore it, but it has been the best way to recall the details of our recent journeys.