Spring
It still feels like we are settling in to our new home and the progressing seasons reveal a lot of changes in the valley and changes to our house and garden.
We would love for you to contact us, or come and visit. You will have to wait a few months more to see any results of our move in Christina's work.

Christina's paintings are mostly on view at the Robinson-Gay Gallery in Hexham. The gallery exhibits the work of a number of top artists, so please visit, or check out their website.
In September 2017 Christina will have some paintings and prints at the Upfront Gallery in Cumbria. More details about the gallery on their website. They are well worth a visit for the artwork, the food and the puppet theatre.
There will be no overseas train odyssey this year, partly due to us spending every pound and minute on our new home and workspace So, no addition to our Travel Blog. Feel free to ignore it, but it has been the best way to recall the details of our recent journeys.
If you would like an invite to any of Christina's own exhibitions, you can fill in your details by clicking below or on our contact page.

Looking forward and back
Christina writes: 'It always takes me a while to get used to the view from my studio. When we moved to Bardon Mill in the Tyne Valley, it took at least a year for me to gain confidence to paint the view. I need even longer to be able to say that I knew the landscape well enough to paint it as I saw it. I keep starting new paintings, but they all need tyo be worked and re-worked over and over. So far, I am not happy with the results.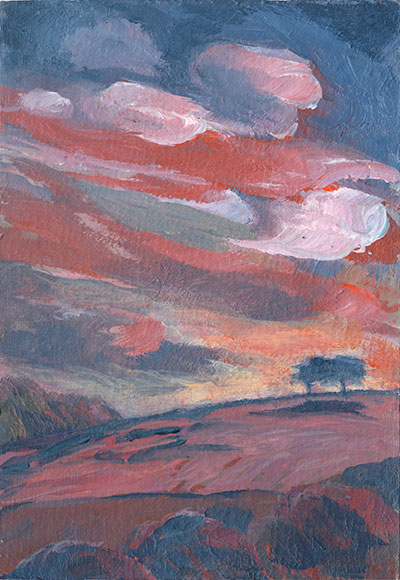 I did paint the view from the rented house in Allendale. Most of them are for sale at the Robinson-Gay Gallery'