Summer
It's summer in the valley and the trees are all clothed in green that hides all their structure and a large part of the fields beyond them. Christina's studio looking out over the landscape continues to be worked on, as she becomes more aware of what she wants the space to be. Our printing workshop has also evolved over the months. It now has a proper entry instead of the old garage doors that were there over winter. No more draughts and wet floor.
We would love for you to contact us, or come and visit. You will have to wait a few weeks more to see any results of our move in Christina's work.

Christina's paintings are mostly on view at the Robinson-Gay Gallery in Hexham. The gallery exhibits the work of a number of top artists, so please visit, or check out their website.
In August Christina will have some paintings and prints at the Upfront Gallery in Cumbria. More details about the gallery on their website. They are well worth a visit for the artwork, the food and the puppet theatre. The exhibition runs until November and is an amalgm of the exhibitions planned by the Upfront as part of their 20th Anniversary.
There will be no overseas train odyssey this year, partly due to us spending every pound and minute on our new home and workspace So, no addition to our Travel Blog. Feel free to ignore it, but it has been the best way to recall the details of our recent journeys.
If you would like an invite to any of Christina's own exhibitions, you can fill in your details by clicking below or on our contact page.

Looking forward
Christina writes: 'I am working on lots of new paintings. Some of them have been worked and reworked for months, especially with the changes of season. When I think they are completed, I put them to one side. That is not always the end of it; as I get going on another, I find that I am unhappy with the previous work and might either alter it, or even destroy the whole thing. This way, I hope that anything that gets framed is what I would be happy to exhibit. Recently, I found that a painting I completed last year and had in a gallery, so dismayed me every time I saw it there, that I retrieved it and tried to amend its faults. The following day, when the painting had been sanded down and changed beyond recognition, I heard that someone wanted to buy it. Oh well, that's the price for being an artist and not part of an industrial process. So far I have completed new work for the Upfront Gallery. Everything else remains subject to sudden editing.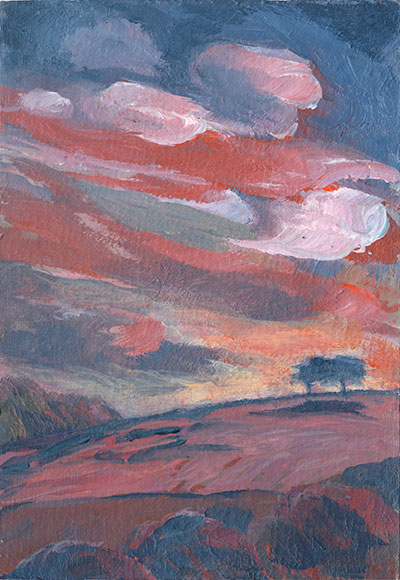 I did paint the view from the rented house in Allendale. Most of them are for sale at the Robinson-Gay Gallery'