Winter
Hawthorn Cottage Industry was formed in 2001 and became our fulltime partnership in 2003. Recently, we came to the conclusion that circumstances have changed so much for us, we need to rethink what we do. Since 2015 we have twice moved home and premises; our business has suffered as a result. What we have been doing no longer works for us in many ways. We hadn't noticed that all of the developments between then and now have added multiple layers to our original business model. Most of it has been necessary, but much of it has been added to deal with problems, as we encountered them along the way. For example, following the crash of the economy in 2008, the art sector in the region changed dramatically. Many of our customers have disappeared and only some have been replaced by new outlets. To compensate, we added different roles for ourselves; building websites, digital printing for other artists and image restoration. All of this was incorporated into Hawthorn Cottage Industry without question.
A few years ago, Christina decided that she needed to concentrate full-time on painting and gave up making greetings cards by hand. We carried on trying to print them directly onto card, or getting other companies to print for us. However, this either took too much time, or left us feeling dissatisfied with the results.
When we started, Christina had no studio and worked almost entirely from the back of our van, or out in the open air. At our new home, she has her own dedicated space. In that same home, we no longer have space for hanging work as we used to do for visitors, or as part of our twice annual open studios events.
Recently, we took advice from others, especially from Creative FUSE at Newcastle University. As part of a CREATATHON programme, we were given a series of suggestions for the future of Hawthorn Cottage Industry. What we have decided is to take the advice to split our partnership in two in order to make better use of our different skills and products.
So Christina will concentrate on painting and selling her work through galleries and her giclée prints through outlets, including online. Paul will establish a separate identity for artists prints, photography and web design. He will also offer a assistance for those trying to turn their art into a way of making money from it.
At some point we will separate our web presences to reflect this. Until then, we will try and keep you updated. Even after the changes, we will continue to redirect anyone who comes here towards wherever we are. Thank you to everyone who has either supported or followed us. What we would like is that you continue to do so.
Christina's paintings are mostly on view at the Robinson-Gay Gallery in Hexham. The gallery exhibits the work of a number of top artists, so please visit, or check out their website.
In September Christina will have some paintings and prints at the Dennis Kilgallon Gallery in the Hills between Bardon Mill and Whitfield. More details about the gallery on their website. The gallery has its own outdoor sculpture and views of the hills around it. It can be found at NE47 8JP on your SATNAV.
There will be no overseas train odyssey again this year, partly due to us spending every pound and minute on our new home and workspaces So, no addition to our Travel Blog. Feel free to ignore it, but it has been the best way to recall the details of our recent journeys.
If you would like an invite to any of Christina's own exhibitions, you can fill in your details by clicking below or on our contact page.

If you prefer to receive notication by post, to have your name removed from our list, or to tell us of a change of address, either click the unsubscribe button at the bottom of any email, or use our contact form to let us know.
Looking forward
Christina writes: 'I am excited by what is happening to us. I have an exhibition with Dennis Kilgallon in September, for which I hope to have a completely new set of work. Recently, I went to house sit for someone, while he worked abroad for a few weeks. I managed to do some painting there, which should feature in the exhibition. I returned hpme to an enhanced studio with lots of new shelves and surfaces for me to work on.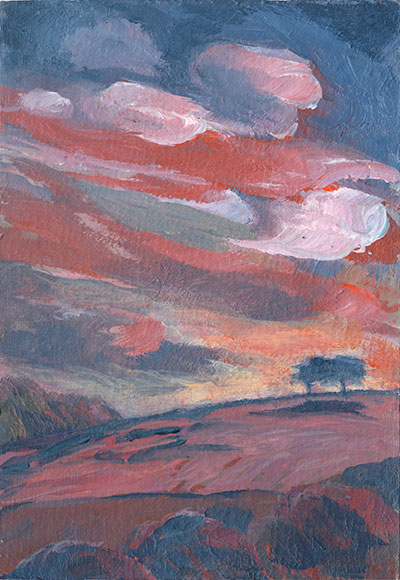 My work is changing, as a result of the change of venue, the fact that I have a proper studio to work in and because I have been experimenting with new processes and techniques. Of course I wonder what people will think of my latest work, but I need to develop as an artist and react to changing circumstances.'